Long Tet holiday will keep travel firms busy
Just one day after the Prime Minister Nguyen Tan Dung gave a nod on the Ministry of Transport's proposal to extend the Tet holiday, travel firms gathered meetings to discuss the plans on offering more services and designing more tours.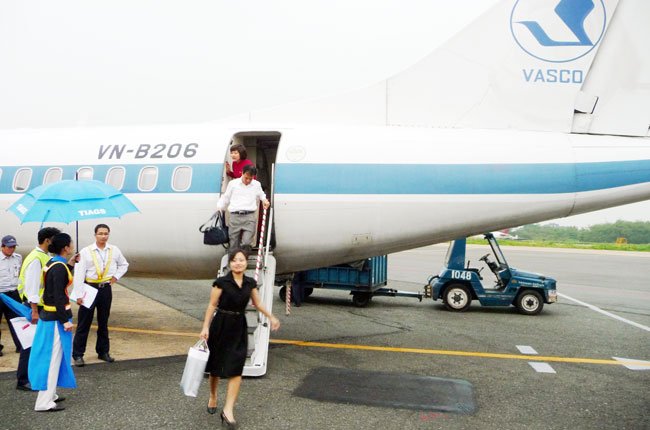 However, it is still unclear if travel firms can grab the opportunities. While big travel firms feel at ease when designing new plans for Tet, smaller firms are not sure if they can book services.
A senior executive of a private run travel firm in Hanoi said since the news about the Tet holiday extension was released too late, the firm may not re-arrange its plan.
"I am not sure if we can book air tickets on Tet days," he explained. "We may find air tickets if we try, but the tickets will be more expensive than the tickets we have booked already."
Tran Van Long, General Director of Du Lich Viet, also said he is considering offering more tours, but the firm still cannot book air tickets. It is also difficult to book other services.
It is foreseeable that the service fees would be much higher, especially the ones for outbound tours to neighboring countries. Not only Vietnamese, but other regional countries also celebrate Tet in accordance with lunar calendar, which means that travelers would flock to the tourism sites at the same time, thus leading to sharp increase in the demand.
"We are going to work out with some other travel firms on a plan to ask air carriers to provide more flights on Tet days," he said.
"The new tours' fees will certainly be higher than the tours we have prepared for the last many months," he added.
Doan Thi Thanh Tra, Marketing and Communication Director of Saigontourist, said the travel firm has decided to provide more tours for Tet holiday and it has begun booking air tickets.
"We'll try to offer more tours for Tet as we can," Tra said. "As for the tours offered before, a lot of travelers have paid deposit money for long distance tours."
The directors of many other travel firms share the same worry with Long, though they feel happy because the long Tet holiday would bring more jobs to them.
"We are trying to contact our partners, but we still don't know if there are more services available," Phan Dinh Hue, Vong Tron Viet travel firm's Director, said.
"The Tet holiday schedule should have been released half a year in advance to create most favorable conditions for travel firms," he added.
Hue went on to say that small firms would find it more difficult to book more tickets with the airlines. In general, the tickets for the popular flights or the flights to well known tourism destinations have been sold out already. Bigger travel firms can book more air tickets.
Meanwhile, Nguyen Viet Hung, CEO of Fiditour, said he feels optimistic about the 9-day holiday. He said the holiday could last 13 days, if employers take some more days' leave when the holiday officially ends.
Hung thinks that the Tet tour purchasing power of the 9-day holiday may be 20 percent higher than a 4-5-day holiday.
Chi Mai