Quangninh- Halong
Ha Long Bay travel and tourist guide
Ha Long Bay is top of the list of places to see for many visitors to Vietnam, and this is hardly surprising. Like Guilin in China and Phang Nga Bay in Thailand, it is a region of limestone pinnacles that jut out of tranquil waters, creating a surreal landscape that is photogenic in every mood.
Designated a World Heritage Site by UNESCO in 1994, the bay covers an enormous area of over 1500 square kilometres and stretches for about 120 kilometres down the coast in what is known as the Gulf of Tonkin. Within this area are literally thousands of small islands that create a unique topography and constantly shifting views
Ha Long Bay guide - Vietnam's karst wonderland
Since Ha Long Bay is around 170km from Hanoi, it is a bit too far to manage comfortably in a day trip. Though some tour companies offer such a day out, it is a bit too rushed to be able to appreciate the majestic views properly.
Indeed, the best views often come in the early morning and evening when the low light exaggerates the strange shape of the dramatic karst outcrops.
Many visitors to Ha Long Bay base themselves on the coast at either Ha Long City or Cat Ba Island and head out in the morning in a boat for a day of touring the islands. A more romantic alternative is to spend a night on a boat in the bay, enjoying the shifting light of sunset and sunrise.
Though most people are content to take photos of the fabulous scenery from the boat in Ha Long Bay, trips allow visitors to explore vast caves, clamber to the peak of an outcrop to admire the panorama, and in csome cases explore hidden lagoons by kayak.
Ha Long Bay bars and nightlife
As with food, so with drink in Ha Long Bay. There are hardly any bars that would appeal to foreign visitors in Ha Long City, while Cat Ba Island has quite a few cozy places to enjoy an after-dinner drink.
Blue Note: Named after the legendary jazz record label, this place features music, although you'll as likely hear pop or blues as jazz here. Still, it's a welcoming place for a drink and a chat with a decent selection of drinks including top shelf spirits plus local and imported beer. (Nui Ngoc, no phone)
Flightless Bird Café: No prizes for correctly guessing that the owner of this place is a proud Kiwi. Besides a good selection of beers and wines, there's a dart board and book exchange. 1 April, tel: +84 (0)31 388 8517. $
Noble House
Noble House is a hotel with an outstanding restaurant on the first floor. There is a very nice bar on the second floor which also has a pool table and board games.
Location: Centre of Cat Ba Island, next to the post office, across from the pier.
Tel: +84 (031) 888363
Flightless Bird Cafe
Flightless Bird Cafe is another popular place among travelers. Open from 18:30 onwards choose a seat on the second-floor balcony. It will be hard to take your eyes off the beautiful harbour view. This is a good place to get information about Halong Bay as well as to exchange books.
Location: On the main street of Cat Ba Island.
Tel: +84 031) 888517
Shopping in Halong
Shopping in Halong is not as diversified as that in Hanoi or Ho Chi Minh City. However, what is actually available can turn out to be interesting. In Halong, souvenirs are offered more than usually found elsewhere. The traditional souvenirs can be found there include lacquer plated chopsticks, ceramic tea sets, the ubiquitous conical hats (nón lá) that Vietnamese womenfolk wear, silk fabric, silk artifacts and crafts, or the traditional Vietnamese long dress, known locally as the "Áo dài". If you are planning for a short shopping trip, here are some suggestions:
Night Market in Bai Chay
One of the markets that worth your visit is situated in Bai Chay. The market is opened at night as well. It has kiosks full of interesting knick knacks sold at reasonable prices. Despite the reasonable price, you should so some bargain through to get your favorite items at the best price. It makes sense to offer half of what the shopkeepers quote initially. If they do not agree to use the age-old trick, try walking ahead to some other kiosks. Chances are the shopkeeper will call you back offering the price you suggested.
Floating Markets - Local boats filled with fruits and snacks
In Halong, you may find floating boat carrying lots of fruits and snacks. It is interesting to drop into one of these and take your snacks! On such little boats, you are served whatever you like - chips, beer, seafood, sweets and more. Some of these offer a unique way of enjoying seafood where the fish is caught right in front of your eyes and then cooked to perfection in the sauce you want. It's definitely an once-in-a-lifetime experience!
Souvenir shops
Kiosks, shops, drinks and other services are available at the visitor sites, such as: at the entry of Thiencung Grotto, Daugo Cave, Titov Beach, Soisim Island and Sung sot Cave. Similar services may be available on tourist boats. There you can also buy basic food and drinks for your trip.
If you are spending several days in Halong, try to follow several addresses collected below since they are the most well-know shopping places in Halong:
Hạ Long I Market
Address Bạch Đằng, TP Hạ Long
Vườn Đào Market
Address phố Anh Đào, Bãi Cháy, TP Hạ Long
Quảng Ninh Trade Centre
Address 158 Lê Thánh Tông, Bạch Đằng
Hồng Gai Trade Centre
Address Hạ Long I Square, Bạch Đằng
Ha Long Bay is situated off the coast of Halong City (170km far from Hanoi) and owns more than 3,000 islands rising from the emerald waters of the Gulf of Tonkin. In 1994, it was designated Vietnam's second World Heritage Site and attracts a steady stream of visitors year round for the magnificent views of the bay and the relaxing boat trips.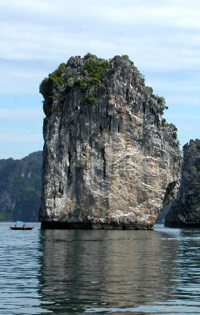 Besides the breathtaking vistas, visitors come to Halong Bay for the perfect time spent on the boat to visit floating villages and explore the caves. There also have interesting relaxing activities such as swimming, fishing and kayaking. Also, this trip can be combined with a trip to the largest island of Cat Ba, which offers beaches, hiking in the national park.

Nearby Ha Long City, Tuan Chau Island is a promising spot for relaxation. This island is being developed into a recreation complex with aquarium, circus, golf and resorts, and is becoming increasingly popular for Vietnamese tourists.
It is possible for visits to Ha Long Bay year-round. And winter months (from October to April) are said to be the best time although in months of December, January and February, the weather is often cool, drizzly and overcast with low visibility. During summer months (May to September), tropical storms are frequent and tourist boats may have to alter the itineraries depending on weather condition.
There is different scale of prices for overnight tours to Ha Long Bay but beware that we just get what you pay for. Price differences are based on the quality of the boat, food, accommodation, transportation, crew as well as other invisible elements. Frequent questions to ask before making a booking are the group size on boat and on car, cabin type (with or without A/C), included and excluded services in the package so that you know what to expect in advance.