Hochiminh City
Ho Chi Minh City or Saigon, situated in the southern of Vietnam, is still called Saigon by most of the natives. The modern city used to be considered as the Pearl of the Orient by the French. It is a brazen, industrious and dense metropolis, the largest city in Vietnam and the business capital of the country. With a population of five million, this city of Vietnam is crowded, noisy, yet it is also exciting and historic, the essence of the nation.
The wide Saigon River, which takes a huge turn from the east of Saigon, links the city with the sea. Unlike Hanoi, the capital of Vietnam, Ho Chi Minh City (Saigon) may lack charm and elegance, but the city with its essential French colonial character has enough to draw your attention. The colonial villas, wide avenues and a lively cafe society in the city remind you the days of French dominance.
Over the last 10 years, Ho Chi Minh City has experienced a spectacular change in its cityscape. And today, this city has a cosmopolitan and energetic atmosphere. The once low-rise landscape of the city's central area, District 1, is now marked with shining skyscrapers including high-rise apartments, international hotels, luxurious restaurants and bars and companies. This bustling, vibrant, industrial hub of the nation is the biggest city of Vietnam as well. Saigon is also the cultural center and economic capital of the country.
The city is well connected with rest of the world through air routes and sea and thereby draws huge foreign funds in the fields like oil, gas, agriculture, textiles, and marine products. However tourism contributes a major part of the government's revenue. Visiting Ho Chi Minh City, the travelers have a chance to visit a lot of interesting places from historic sites to entertainment and shopping area.
The city with its teeming metropolis mingled with the elegance of ancient culture, gives you a microcosmic view of the entire nation.
The nightlife in Ho Chi Minh City (Saigon) gained notoriety during the Vietnam War for its girly-bars but it has changed a lot thanks to the tourist boom to Vietnam in the recent years. Ho Chi Minh City's nightlife has grown and diversified considerably, and while not rivaling the range of entertainment of other Southeast Asian destinations, it's still guaranteed to do the job.
With everything from rooftop bars and lounges to pubs and nightclubs playing all the latest dance hits, travelers looking to let loose on a night out on the town will have plenty of options in this bustling city of Vietnam.
Easy to find a Rooftop Garden Bar for drinks where you can watch the sunset over the busy streets where the flicker of streetlights and neon begin to come to life. You then can head out to District 1 where the funky bars and fashionable clubs can be found, particularly on the streets around Dong Khoi and Hai Ba Trung. Travelers should also head to the Apocolypse Now bar and club, a popular spot for foreign experts and other westerners, where party participants can make use of the bar, dance floor pool tables and café.
Another must-go for a night of fun and singing in Ho Chi Minh City is The International Tourist Club disco and karaoke bar in the New World Hotel. And then travelers can head over to the The Metallic Bar on Ba Huyen Thanh Quan in District 3 for live gigs from local rock bands. Or to find something completely different, the travelers can stop at Bonsai Cruise on Nguyen Van Thu St. in District 1 which operates Saigon River dinner cruises, the perfect way to relax and spend a lazy evening. In the boat, the travelers can enjoy the wonderful sight of Saigon River at night; enjoy a sweet dinner in a very romantic environment.
Travelers should also note that many of bars and nightclubs in Ho Chi Minh City closed early due to the big city standards, around midnight or when the last guest leaves so anyone looking to keep going until the early hours of the morning will be sorely disappointed.
Shopping in Saigon: Travelers in Ho Chi Minh City will at first be overwhelmed with the amount of stalls and roadside vendors that cram the sidewalks and street corners. The city can be considered as a heaven for shoppers, offers a wide variety of items ranging from the colorful handicraft items to tacky tourist junk well within your budget. There are plenty of bargains to be found amongst the usual tourists tat and counterfeit handbags.
Best buys in Saigon – Ho Chi Minh City include silk clothing and other hand-woven fabrics, bamboo ware, ceramics and boxes and vases made from lacquer ware; while traditional Vietnamese hats can be found just about anywhere and tailor-made clothing is popular too.
Most of Ho Chi Minh City's shopping can be done from the local markets and street vendors where polite haggling is expected. The most famous market for shopping in Ho Chi Minh City is Ben Thanh market – where a lot of things are traded.
Shoppers looking for something a little more up market should head to Dong Khoi Street in District 1 where designer stores, boutiques, antique stores and jewelry stores abound while bargain hunters will also be pleased to know there is a duty-free store on Nguyen Hue Blvd in District 1 which specializes in duty-free items such as perfumes and colognes.
Most shops in Ho Chi Minh City are open daily from 8am to 8pm.
Tourism has become an important and established industry in Vietnam over the last decade and most visitors usually have a very enjoyable experience in their interactions with the Vietnamese people. That said, like any country Vietnam has a diverse population so it can pay to be informed about what you might expect from the local population when visiting their country.
Generally speaking, the Vietnamese people are very friendly and hospitable to foreign visitors. Around the major cities, the prevalence of tourism means that locals are well acquainted with travelers and will make you feel welcome. In the more remote and rural areas however, local people are not always accustomed to the sight of foreigners and may stare at you in harmless fascination. The best response is to always stay happy and smile or wave, and you will usually receive the same in return.
When purchasing goods outside of large department stores, bartering is an expected part of the transaction. Foreigners will generally be quoted a higher price than local people on the expectation that some haggling will occur. How much prices are reduced depends on how skilled you are at the process, however a reduction of at least around 10% can usually be expected.
Tipping is not usually expected, and can often be already factored into the price you are charged. However if you choose to tip, it will certainly be appreciated by staff working in low-paid employment.
The predominant religions are Buddhism, Christianity and Catholicism.
One aspect of traveling in Vietnam that can occasionally cause problems for visitors is the persistence of some street sellers, vendors or taxi drivers determined to make a sale. This can sometimes be interpreted as a personal indignity by visitors, however it is usually just a case of a trader trying to succeed in a very competitive market. If you are followed along a street or through a market by an unwanted seller, simply keep reiterating that you are not interested. Losing your temper is the worst thing you can do and will only leave you appearing arrogant and inconsiderate. Stay happy, be respectful and enjoy the experience for what it is.
Ho Chi Minh City Travel Guide
Ho Chi Minh City is the largest city in Vietnam and informally referred to as Saigon. It is remarkable for the harmonious blending of traditional values with northern and western cultural features. Skyscrapers dot the city and everywhere are the signs of growing status cars, mobile phones, upscale cafes, fine dining and trendy nightlife. And yet the city still retains a uniquely Vietnamese feel with the hustle and bustle of the local markets, incessant horns and local vendors on every street corner.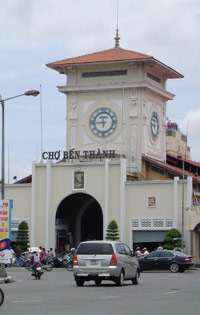 Ho Chi Minh City (usually shortened to HCMC) was called Saigon in the past, and some people still call it Saigon today. It has become the cosmopolitan commercial and financial hub of Vietnam in recent years and is the most popular tourist destination in the country. HCMC is an eclectic mix of old and new, featuring elegant colonial architecture together with contemporary modern Asian and international structures. Some of the older tree-lined streets are reminiscent of European urban areas, while the steel and glass multi-storey buildings and office blocks present the modern face of the city. The city also boasts many fine restaurants and numerous sidewalk cafes that are popular with both locals and visitors alike.
In addition to the busy modern business and shopping districts, 300 year old HCMC has many historical sites to explore such as Giac Lam Pagoda, which was built in 1744, and Giac Vien Pagoda that was founded two centuries ago. Victorian era Notre Dame Cathedral, the most famous French colonial church in and around Saigon, is located in heart of the city along with many fine examples of architecture from that period. Cholon, or China town, and the famous central Ben Thanh market are also highlights of any visit to the city.
More recent history is evident in the Reunification Palace and the War Remnants Museum, as well as all the modern entertainments one expects to find in most big cities in the world.
Today, Saigon is the big tourism center as well as the commerce and financial hub, attracting a large number of business and leisure travel to Vietnam.
Saigon has various attractions such as the Opera House, Ben Thanh Market, the Notre Dame cathedral, the Reunification Palace, the China town, Cu Chi Tunnels, museums, theatres and cultural houses, shopping centers, etc... Recently, local tourist areas including Thanh Da, Binh Quoi Village, Dam Sen Park, Saigon Water Park, Suoi Tien, Ky Hoa also draw the interest of visitors. In addition, Saigon is a good starting point for excursions to the Mekong delta or nearby beaches of Phu Quoc, Phan Thiet (Mui Ne), Vung Tau, Long Hai.
Generally, the climate in Saigon is hot and humid with an annual average temperature of 27 Degree Celcious. There are two distinctive seasons: the rainy season (May to November) and the dry season (December to April next year). The hottest month is April and coolest is December. It is possible to visit Vietnam and Saigon in winter for the best weather, avoiding the monsoon (May to October). But be prepared for humid conditions throughout the year, especially in the south. The best month is January.
Vietnam has its fair share of pickpockets, especially in large cities like Saigon and Hanoi. Thus, always keep an eye on your valuables or better to leave them at hotel before going out. Sometimes while traveling, a desperate beggar or street vendor suddenly grabs your arm, then follow you to ask for money or sell their stuffs. Please do not offer money to them; instead donate to a local charity. For the traffic, when crossing the road, always keep looking to the left and right and walk slowly.