Dong Sen Thap Muoi – new eco tourist site in Dong Thap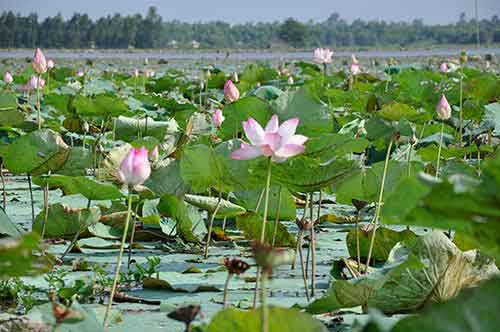 An immense lotus pond blooming in November.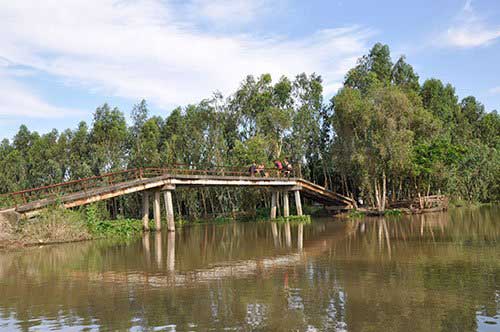 Peaceful landscapes along the river's banks.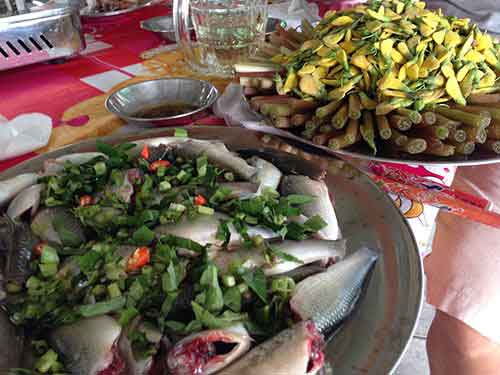 A hot pot of linh fish served with bong dien dien is a must-taste specialty in Dong Thap.
The site, located in My Hoa Commune of Thap Muoi District, is 39km from Cao Lanh City. To reach the spot tourists travel on Ho Chi Minh Road towards My An Town to My An Bridge then turn left. The site was opened to the public in September and is next to the sacred Go Thap relic site which has Oc Eo culture's artifacts.
The tourist site is set up with simple decoration to bring guests the primitive and rustic feel of nature with wooden boats and a watch-tower made from leaves. This is where travelers can leave all the stress and burden of city life to enjoy peaceful moments.
A highlight of Dong Sen Thap Muoi (Thap Muoi's lotus field) is its pure environment where tourists can join in numerous activities like sailing a boat to pick lotuses and going fishing. Tourists are recommended to take a boat trip around the immense lotus ponds and take photos at the price of VND300,000 and VND400,000 for a boat of 5 people and 10 people respectively. During the trip you can admire endless rice fields all covered by water, a unique feature of the Mekong Delta in the wet season and a chance to watch locals in their daily life activities.
Additionally, tourists can enjoy numerous local specialties like grilled loc fish wrapped in young lotus leaf, rice field rats, braised fish, hot pot made from fish sauce and sweet lotus soup. Especially, you should try a special drink called sua sen (lotus milk) which is made from lotus seeds and gives a pleasant feeling of cooling down the body and it is said to be good for your brain – priced at VND12,000 per bottle; or bee honey at VND120,000 per bottle.
The site also offers travelers some extra services like costumes for rent for those who wish to have a wedding or outdoor photo shoots. It even offers facial mask care made from grinded lotus powder.
Entrance fee is VND20,000 per person on week days and VND30,000 per person on weekends. For further information, contact Mr. Truong on the hotline 0939 68 8 283 or visit the website www.dongsenthapmuoi.com.